---
RELIEF - For Medical Staff Services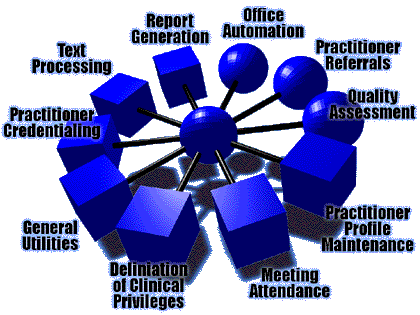 As a Medical Staff Services professional, your typical day can include attending several meetings, writing up numerous sets of minutes, training a new staff member, consulting with a physician, discussing an issue with medical records administration, producing the agenda for an early morning meeting, and more. Here's how Relief can assist with your Medical Staff Services responsibilites.

Relief is the software solution from Micro-Med that fulfills the needs of todays, and tomorrows, Medical Staff Office. The practitioner profile is one of the most extensive in the business. Linked to this are Credentialing, Meeting Attendance, Delineation of Clinical Privileges, Imaging, Letter and Forms Generation, and Broad Reporting to finish off your needs. Optional modules include Practitioner Referraling and a comprehensive Appropriateness of Care Monitoring system. With over twenty five years in the business Micro-Med understands the needs of the Medical Staff professional and has met those demands with some of the most complete software in the industry. The Relief solution is designed to allow you to meet the requirements of The Joint Commission, The NCQA, and other regulating and accreditation agencies, not just today, but tomorrow as well.


---
Get a Brochure



Download a complete brochure of the RELIEF package by clicking below. You will need a copy of the Adobe Acrobat reader to view this brochure. To get a free copy of the Acrobat reader, click the reader button and follow the download instructions.

Receive the RELIEF Brochure
Receive the Acrobat reader
---
Micro-Med Home Page
http://www.micro-med.com
360 E. First Street, #335 • Tustin, CA 92780
Voice: (714) 731-6803 • Fax: (714) 731-1635
pkajszo@micro-med.com

---
Copyright © 1979-2022 Micro-Med Enterprises, Inc. All RIGHTS RESERVED.